Why Shorts Should Be An Integral Part of Your YouTube Content Strategy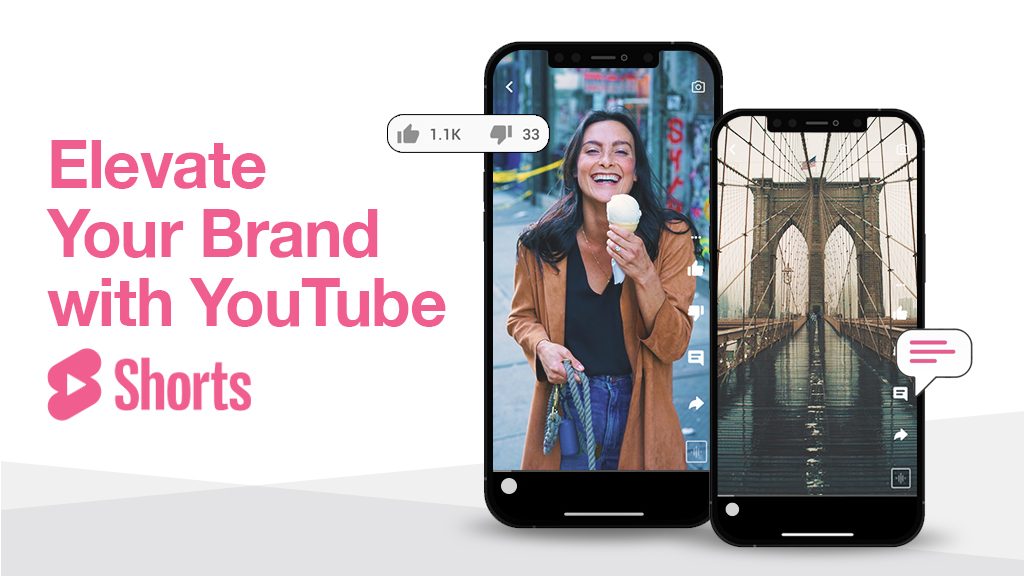 The Evolution of YouTube Shorts

Following the TikTok ban in India in June 2020, YouTube introduced "Shorts", offering an alternative platform for TikTok's massive creator base. Impressively, daily views from Shorts in India surged to over 6.5 billion shortly after its debut.
By March 2021, Shorts had expanded to America and another 26 nations.

To catalyze the adoption of Shorts, YouTube allocated $100 million to the "YouTube Shorts Creator Fund" between 2021-2022, offering selected creators between $100 and $10,000 monthly for top-notch content.
By February 2023, monetization for Shorts became available via the YouTube Partner Program, allowing creators to earn a substantial 45% of total allocated ad revenue.

The most recent statistics underscore Shorts' global success, boasting 50 billion daily views (66% growth YoY) and more than 2 billion Monthly Active Users (MAUs). When it comes to mobile audiences in 2023, YouTube Shorts overshadows TikTok by almost 2:1, proving its overwhelming traction*.
5 Reasons Why Shorts Are Essential For Your YouTube Content Strategy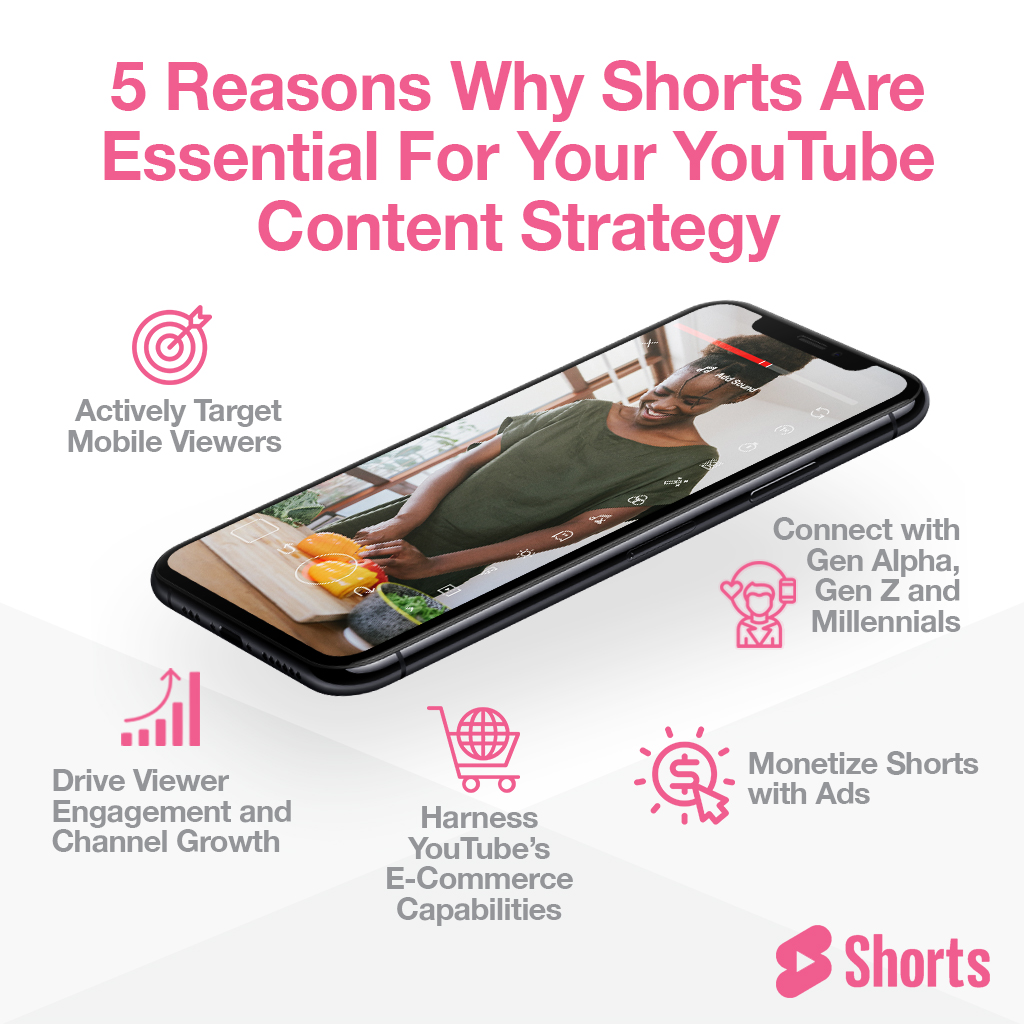 1. Actively Target Mobile Viewers:
Over 70% of YouTube content is consumed via mobile, with more than 1 billion daily views coming from mobile devices. An average mobile viewing session lasts about 40 minutes*.
YouTube Shorts, with its vertical, bite-sized format lasting 15-60 seconds, is ideal for mobile viewing, offering an efficient way for brands to bolster their visibility.
Shorts help Brands meet their mobile audience where they are and cater to their viewing preferences; providing an opportunity to increase brand visibility and reach new audiences.
Learn more about how Touchstorm helped a premium hair care brand increase their organic views by 340% through Shorts.
* Source: https://www.globalmediainsight.com/blog/youtube-users-statistics/
2. Connect with Gen Alpha, Gen Z and Millennials:
A little over half of the global YouTube users fall in the age group of 15-44:
25-34 age group is the biggest consumer of YouTube content with 20%, followed by the 35-44 age group (16.7%) and the 18-24 age group (15%).
According to a recent study conducted by marketing agency Razorfish, over half (51%) of Gen Alphas first hear about brands through YouTube videos.
95% of Gen Z choose YouTube over other platforms in the US, and according to YouTube's 2022 Culture and Trends Report – 59% agree that they use short-form video apps to discover new content topics, products and services. These audiences show a preference for concise, vibrant video content, making Shorts a prime medium to engage them.
Millennials lead in social media usage among adults, spending 253 minutes daily on smartphone apps and the internet.
Learn more about how Touchstorm utilized Shorts to help a leading Grocery brand reach and engage a younger audience on YouTube.

3. Drive Viewer Engagement and Channel Growth:
Create Shorts that engage viewers and drive them to the long-form version on your channel. YouTube recently launched (August 2023) a "Related Videos" feature where the title of the long-form video becomes a clickable link on the Short video to create a more seamless user journey from a Short to a related long-form video.
Additionally, viewers who subscribe to Shorts are also automatically subscribed to the channel's long-form content.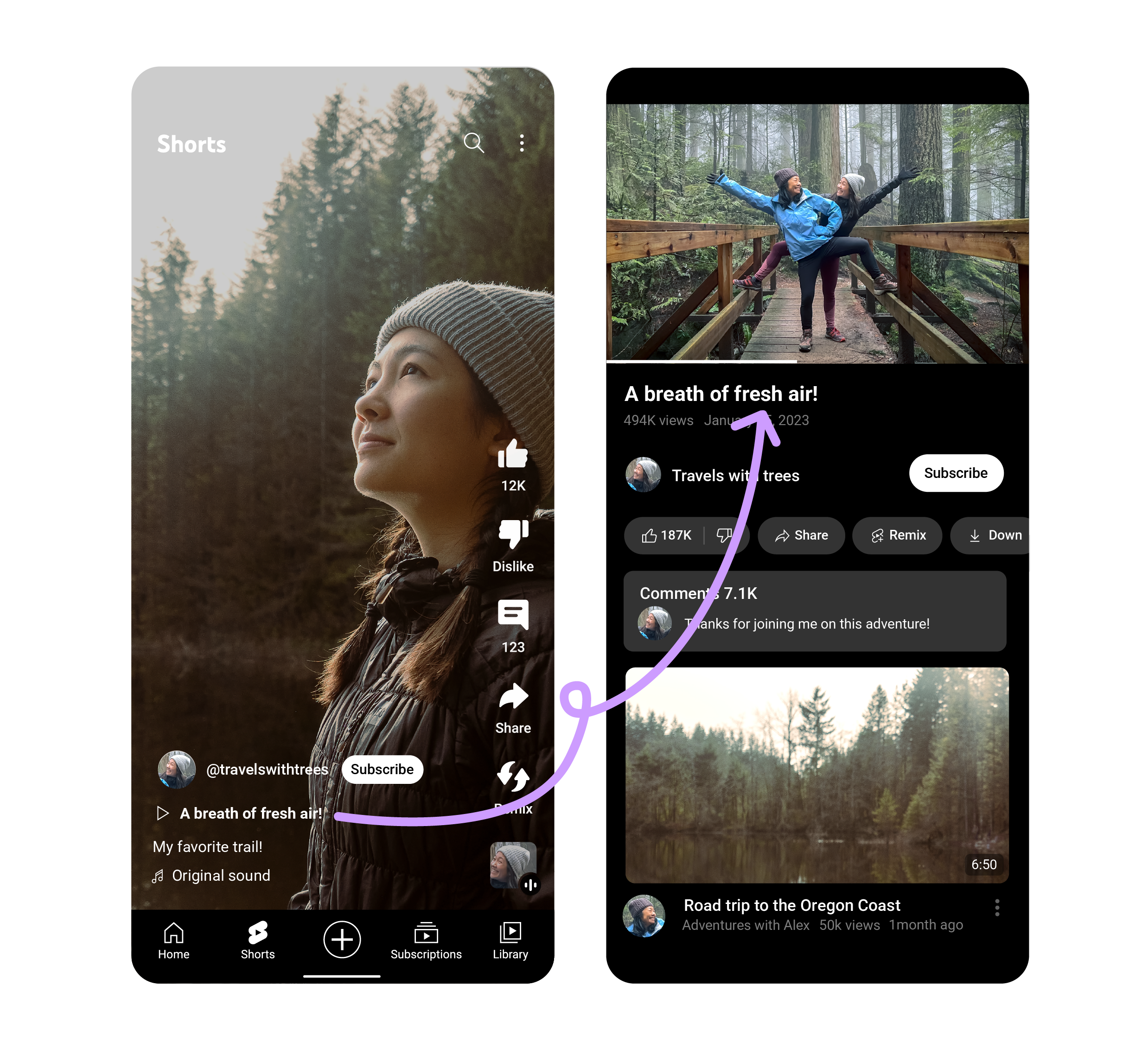 YouTube's new "Related Videos" feature for Shorts where clickable titles drive to linked long-form videos.
4. Harness YouTube's E-Commerce Capabilities:
Over the last three years, YouTube has invested heavily to enable e-commerce through videos so viewers can purchase products without leaving the platform.

Viewers can browse and buy featured products while watching Shorts videos by clicking on the shopping bag icon or shopping button on their screen. This feature is currently available for users in the US, India, Canada, Brazil, and Australia. Youtube aims to expand this feature to other countries.

YouTube launched a Product Tagging feature allowing creators to tag other brands' products on their Shorts and full-length videos and earn commissions from sales.
5. Monetize Shorts with Ads:
Repurposing Shorts as ads is a fool-proof strategy to reach, engage and convert your audience on YouTube. From Skippable In-Stream Ads to Bumper Ads, YouTube offers diverse ad formats, each tailored to achieve specific marketing objectives.
Five Content Types for Brands Using Shorts:
Product Launches: Generate buzz using Shorts for product teasers, reveals, and countdowns.


How-To Videos: Collaborate with influencers for concise, authentic tutorials showcasing product features and applications. Check out this top-performing "How to Make an Espresso" Short that Touchstorm produced for Grey Goose Vodka. It was aimed to reach and engage their mobile viewers, who make up 90.8% of the total views on their channel.


Behind-the-Scenes Clips: Offer viewers a unique backstage perspective, enhancing brand reliability.


Educational Shorts: Engage influencers to create informational Shorts about your product. Be sure to keep this content authentic, less branded and more organic for maximum impact.


Interactive Shorts Challenges: Launch brand-specific challenges with unique hashtags, incentivizing viewer participation and creating virality. For inspiration, check out Glossier's #WritteninGlossier shopppable Shorts challenge to promote their new eyeliner.

Shorts is not just another feature; it's a formidable tool in the ever-evolving world of YouTube for Brands who want to engage meaningfully with their mobile audience.
For a comprehensive content strategy encompassing both Shorts and long-form content, get in touch with Touchstorm.

We're here to elevate your brand's YouTube journey!
Case Study: Increased Audience Reach Through YouTube Shorts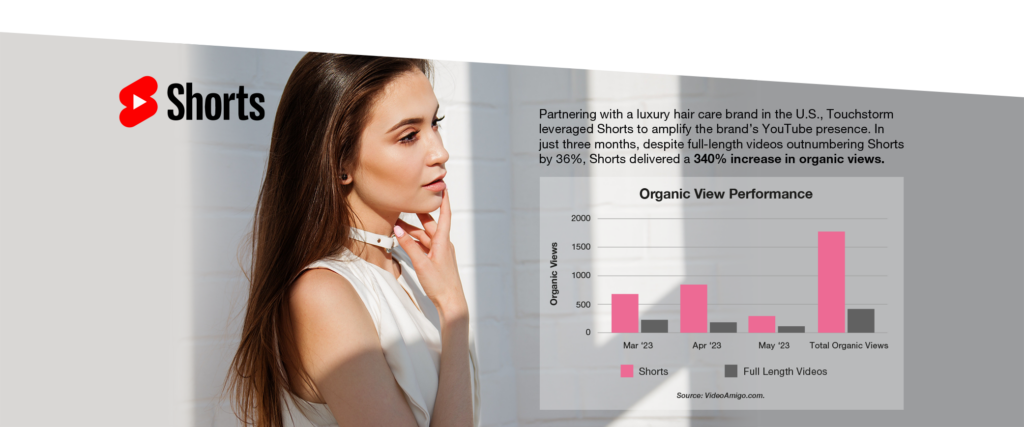 *Methodology: Touchstorm looked at the first seven days performance of each newly published Short versus each newly published full length video during each month. Our proprietary tool eliminates variables to ensure all comparisons are fair.
Case Study: Engaging A Younger Demographic Through YouTube Shorts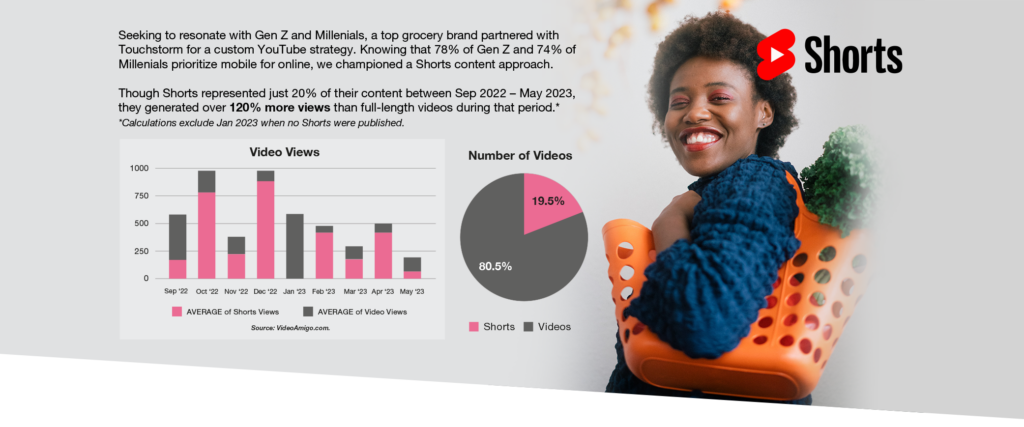 YouTube Shorts are an effective way to reach your target audience. But do you know what content attracts and engages them? We do. We analyzed 700K videos in the automotive category and discovered the secrets of successful YouTube Shorts.
Contact Us for a Free Consultation on Your Brand's YouTube Strategy